n2pdf Advanced – the ideal package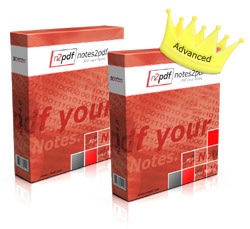 n2pdf Advanced is a combination of n2pdf and webPDF, our powerful platform-independent server tool that conveniently creates PDF documents from more than 100 different file formats. With it you can convert all of your Notes documents and e-mail attachments to PDF as well.
But that's not all. You can even sign and certify the PDF documents. The interface to webPDF let's you electronically sign all the PDFs you create using a digital certificate. This digital signature confirms the authenticity of your documents and safeguards them against manipulation and other unauthorized changes. And, of course, webPDF also supports time stamping in the digital certificates.
The attachment of such qualified signatures not only confirms the document's authenticity, but more importantly provides the legal framework for using PDF documents for electronic billing (e-invoices) and in archiving systems that comply with stringent auditing requirements.
When you buy the Advanced edition you not only get n2pdf, but webPDF as well. This feature automatically gives you a platform-independent PDF server with Java web services that you can allow everyone in your organization to use as a centralized PDF conversion service, or can integrate in other systems, such as SAP and Sharepoint/Exchange.
The Advanced edition is available for the n2pdf Server Agent. webPDF is always included with n2pdf Archive.