User case study: n2pdf at Hamburger Sparkasse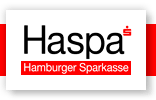 Hamburger Sparkasse AG
Ecke Adolphsplatz / Gr. Burstah
20457 Hamburg, Germany
Robust growth through services that focus on the customer: the Hamburger Sparkasse is using a software module for Lotus Notes to improve its enterprise process workflows
Money is both a delicate subject and essential to one's livelihood. This is why customers place such high demands on the trustworthiness and services offered by their banks. Custom-tailored financial solutions, quick, personal and results-oriented service, and a maximum of transparency for both clients and customer service representatives are critical factors for the integrity, viability and profitability of any bank. Recognizing that optimal service requires efficient workflows, the Hamburger Sparkasse (Haspa) has for years been using a software extension for Lotus Notes that supports its staff in processing data and managing documents from within Lotus Notes.
With assets of 38.6 billion euros, 1.5 million clients and some 5,700 employees in 250 banking centers, Haspa has the most customers and is the largest municipally owned savings-and-loan bank, or Sparkasse, in Germany. The bank offers an extensive and personalized range of financial products and services for the most diverse groups of customers: from young children, private banking clients, and people starting their own businesses all the way to small commercial enterprises and midsize companies. The major growth in deposits and 80,000 new customers last year alone are not only indicative of the trust people have in the bank, but also an expression of immense customer satisfaction. Continuous growth, however, also produces a greater volume of transactions and related business procedures, which poses a major challenge to the bank's financial advisors and information technology support staff.
Better prepress makes business processes more flexible
More banking customers mean more paperwork and correspondence, and so the daily volume of print tasks at the banking centers keeps growing and growing.
Since Lotus Notes is not designed for printing documents, it eventually reached its limits back in 2007. "Printing from Lotus Notes is really difficult. It can be done, but getting satisfactory results requires making complicated detours through various tables and masks. Formatting and layouts were constantly getting shifted when printing texts or forms. The page breaks were often wrong and made entirely no sense. This meant having to manually intervene and correct things during almost every print job, which was something that simply became more and more time consuming every day," was how Stefan Dietz, the Lotus Notes developer at Haspa, explained the initial problems the bank was facing.
For this reason Haspa decided to look for a print-optimizing software solution that can be accessed from within Lotus Notes itself. The tool also had to be variably programmable in order to respond to changing requirements. Stefan Dietz was quickly sold on the performance and potential of the n2pdf Server Agent module from SoftVision when he learned about its remarkable control flexibility and optimized prepress capabilities when generating standardized PDF formats. "I don't know if there's a competing product at all in this area. In any case, my research quickly led me to SoftVision. I watched a few demonstrations of this program extension and was impressed by how perfectly it met our every need, not to mention the outstanding value for the money," said Dietz.
Smooth program launch and enhanced performance
The n2pdf Server Agent was introduced quickly and smoothly back in 2007. The module is routinely first installed on a test server before being shifted to the system servers. The tool was fully operational a mere minutes after the process of installing it on the central Lotus Notes server farm was completed, and which the employees working at the bank's 250 locations can access through the intranet. "The software is easy to understand and we were able to work well with it after only a brief period of time. And when we got stuck at any point, SoftVision always provided us with assistance that was fast and professional. The n2pdf Server Agent not only gave us developers and programmers a module that can convert print content to PDFs, but also a comprehensive tool that lets us optimize the Notes application portfolio with new solutions. Thanks to that, we can now flexibly adapt the in-house system to our many different banking and business procedures. It also lets us use attractive and engaging layouts and formats in our correspondence. And we can even expand the application to include data archiving. This vastly improved printing capability marks a first milestone for us. Even so, the matter of archiving information by using standardized PDF/A formats will certainly play an important role in the future," was how Dietz summed up his initial impression. Because the module opens up a whole new world of possibilities for enhancing the portfolio, it is difficult to calculate a precise cost-benefit factor for Haspa at this time. Nevertheless, this Lotus Notes developer is convinced of this application's economic value. "If only for printing, this tool represents a tremendous savings for Haspa in terms of time and money. Still, it's difficult to measure its benefits in exact numbers, especially now that we can develop applications that weren't available before."
The invisible helper in the background: no user training required
Haspa's Lotus Notes developers aren't the only ones enjoying the remarkable advantages that come with the n2pdf Server Agent; the financial advisors also profit from its flexible features and intuitive and user-friendly operation. "The fact that the module is so well adapted to the Lotus Notes syntax and comes with outstanding documentation meant that no training was necessary for our developer team. The software runs in the background on our Notes servers and the only thing our customer service representatives see is the improved results that n2pdf produces. Implementing the module involved no major changes for our staff. It only takes the click of an added button to start the print function in selected Notes applications from within our system. Users also needed no training since they never come in contact with the tool itself."
"The performance of our applications didn't change as a result of introducing the n2pdf Server Agent, but our service did. Some 3,000 Haspa employees already use the module as part of their day-to-day work. Now, for example, when they want to activate online banking for a client's account, a mask appears in which the customer service representative can manage the entire process including the agreement governing online banking services. All they need do is enter the required information and then present the client with a printout of the agreement for signature," said Dietz in explaining just one example of an improved work process. In light of how this system reduces the workload, makes serving customers more efficient, and can be applied across the entire portfolio, Haspa intends to continue banking on its relationship with SoftVision well into the future.