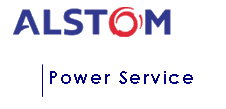 ALSTOM (Schweiz) AG
Brown Boveri Str. 7
CH-5401 Baden
Switzerland
In the world of power generation the Alstom (Switzerland) Corporation offers a complete range of systems, components and services - from design and production, to inspection and long-term maintenance - and has unique experience in system integration and project management.
Alstom has integrated n2pdf in the "electronical Field Service Report" (eFSR). A Field Service Report is used for inspections, in order to report the work performed to the customer. eFSR is build in such a way that, with the help of predefined templates, the time and effort of creating reports is kept at a minimum. eFSR also contains an approval process, which, as result, creates a PDF file of a completed customer report from Lotus Notes - with the help of n2pdf.
The article published here does not constitute the opinion of the SoftVision Development GmbH, but that of our customer. The copyright for the article and all information contained herein, as far as such information is protected by copyright laws, is strictly property of the author, with the obvious restriction that the author, by releasing his article, has authorized the SoftVision Development GmbH to permanently make this article available via our presence in the world-wide-web. Publication of this article by third parties is however, subject to prior approval by the author.