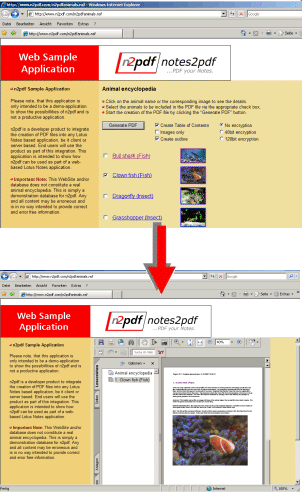 With the n2pdf Server Agent PDF files can be created in the background on the Domino server or in web applications. It is installed on a Domino server and allows the conversion of Notes content or file attachments on a server.
The n2pdf Server Agent is integrated in an application by a developer using Lotus Script or Java. A developer has full control over the PDF creation - thanks to n2pdf's extension of the Lotus Script or Java programming language. It is possible to i. e. integrate n2pdf in agents and to set these to run periodically. This allows the use of the PDF creation capabilities of n2pdf in web applications.
The users access the n2pdf Server Agent as part of their Notes application. All they need to do is to click on the button (thus starting the server agent) and receive the PDF file (i. e. via mail or in a new Notes document). This type of integration works in web applications also. The users do not leave the workflow of their applications when creating PDF files.
A client installation is not necessary when using the n2pdf Server Agent. The entire installation, as well as the creation, are performed on the Domino server.