Data packaged up all safe and sound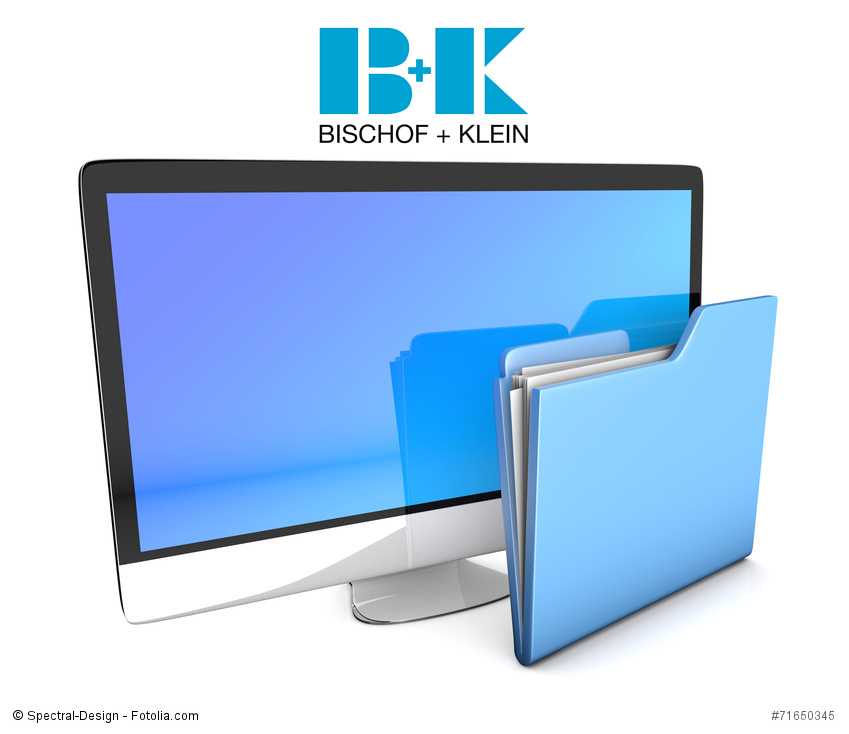 Watertight archiving in PDF/A format
Securing data is an important job for any company, and although digital storage capabilities mark a revolution in comparison to paper archives, there are still many important things to consider: What must the technology landscape include so that data can be backed up and stored with minimal effort? What's the best format for ensuring document readability over time? Which archiving system also satisfies the many statutory requirements for data preservation and accessibility? These were a few of the questions raised by a specialist for flexible packaging and technical films, which now uses a tool that requires no additional effort to automatically convert all of its documents to PDF/A format.
Bischof + Klein is a leading full-service provider in Europe for flexible plastic and paper packaging and special films. The group employs some 2,400 people at six production plants with about half of them working at the main facilities in Lengerich. This specialist's products are used worldwide and range from traditional industrial and consumer packaging all the way to special films for technical applications. Its customers include major corporations from such industries as chemicals, agriculture, gardening, construction and housing, hygiene, high-purity products, food and beverages. The company launched a major archiving project back in 2008 with the goal of preserving and safeguarding for future use its correspondence with customers, including e-mails and their attachments. "We were looking for a tool that could convert our documents to PDF/A," explained Michael Brinkmann, the department manager for application services at Bischof + Klein. "Compatibility was a particularly important factor in light of how we operate using Lotus Notes/Domino groupware."
Fast and easy archiving
While researching suppliers, Bischof + Klein quickly discovered the n2pdf software from SoftVision Development GmbH. This solution package for converting documents and attachments to PDF is one of the few products on the market that is specially designed for integration in Notes applications. This tool not only lets users retain Notes documents' structures and hyperlinks in the PDFs, but even enhances them with additional elements. Because the conversion process runs automatically, no extra effort is required on the part of the employees to do the archiving. Even the administrators at Bischof + Klein quickly mastered the software. "n2pdf is essentially a program extension for Lotus Notes, and so familiarizing ourselves with it was quite easy thanks to our many years of experience working with Notes," said Michael Brinkmann. The rollout as part of the archiving project was wrapped up in two days and the company has been using n2pdf operationally since June of 2009.
Directly integrated in the Notes applications, this tool ensures the integrity of the workflow and can also be employed as part of web applications. The system was installed at this packaging specialist's German facilities in Lengerich, and the sales staff in Poland and England uses it by logging in to the company's network through a VPN connection. Altogether 110 users are accessing this solution. "n2pdf matches our needs one hundred percent. We're also fully satisfied with our relationship with SoftVision. The rollout went smoothly with no problems whatsoever. And we can rely on quick and competent support whenever we need help," observed a pleased Michael Brinkmann.
Audit compliance at the click of a button
Archiving in PDF/A format gives you that safe and sound feeling of being on the right side of the law, especially in view of the many regulations applicable to sales and trading. "The degree of legal and auditing compliance provided by this format helps us pass tax and other audits with flying colors," the department manager explained. "What's more, we have no doubt that documents in this format will be fully readable many decades from now." This is why the company also uses SoftVision's webPDF tool, a server-based solution for centrally generating, editing, exporting and printing PDF files. In addition to converting from approximately 100 different file formats, this tool also lets you split and merge documents, and rotate and delete pages. webPDF's emphasis on security can be seen in its ability to support digital signatures and certificates and by giving users the option of enabling and disabling important security settings.
In the future, plans call for employing SoftVision's products in areas beyond just archiving customer communications, such as in procurement, financial accounting and technology. "The software meets our requirements very well, and is what made our efficient archiving program possible in the first place," noted Michael Brinkmann. "Its wide range of options and capabilities, and stable and reliable performance are truly compelling." When it comes to security, this packaging specialist places the same high demands on its information and internal business documents that it does on its own line of quality products: You need the right packaging to protect those delicate contents.