dachnug49 – DNUG Annual Conference 2022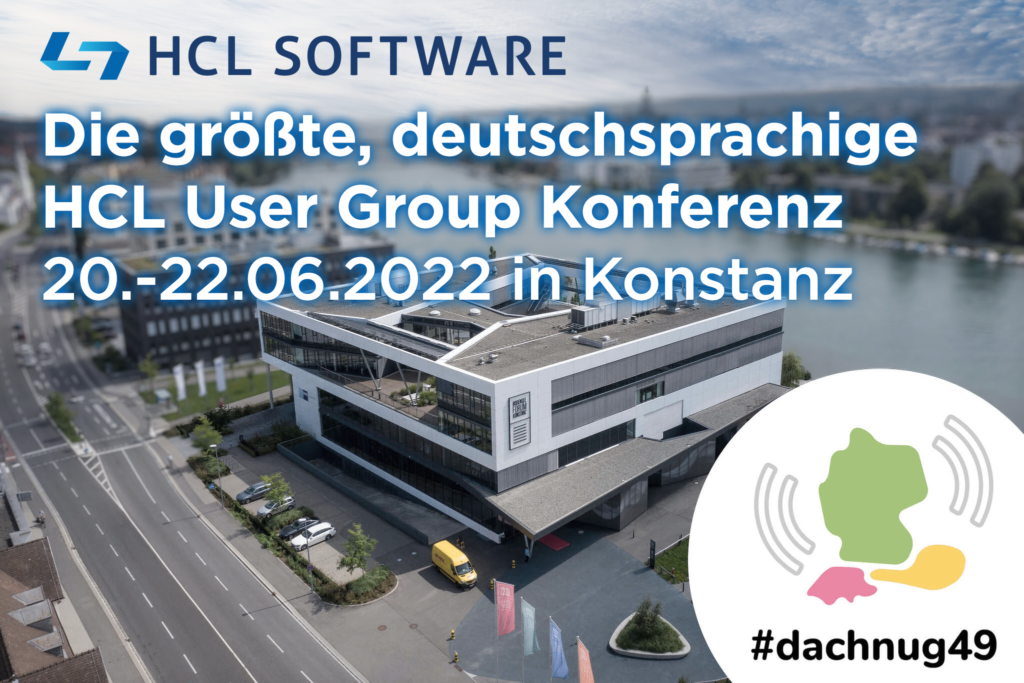 The annual event organised by DNUG was concluded with Day 3 on 22 June 2022. The conference once again offered a lot of input and exchange opportunities around HCL products and HCL software. Under the title #dachnug49, the annual conference even went into its 49th round.
DNUG events and conferences
In addition to Online events the DNUG also offers various specialist group meetings and workshops. With DACHNUG48 as the annual conference, the largest opportunity for exchange with the Notes community was now offered and was able to address many different interested parties with a wide range of topics. The focus was on HCL Collaborations products as well as the entire HCL portfolio.
2022: Review and conclusion of dachnug49
Right at the beginning on the first day, there was the as always refreshing introduction and keynote by Richars Jefts (Vice President of Development and General Manager, HCL Digital Solutions) together with Jason Gary (Technical Director, Digital Solutions, HCL Software). Then the three-day programme started. The participants had the opportunity to get an overview of all current developments. As always, HCL presented the current state of affairs and, above all, what trends are emerging in the software market. In addition, there were individual contributions from DNUG board members. New board members were also welcomed.
In addition to the individual "expert group tracks" with many interesting presentations, the participants could also take advantage of the HCL question and answer session, where about 15 HCL representatives answered questions. In this context, it was already revealed that the first release date of Volt MX Go is scheduled for the end of the year.
A highlight on day 2 was keynote speaker Richard Jefts, with his as always likeable and refreshing and interactive contribution. Finally, the focus was on the conference partners, who introduced themselves at the individual stands. The individual tracks of the specialist groups dealt specifically with the topics Domino, Connections, Sametime, BigFix as well as administration- and development topics. Here there were exciting contributions such as:
Domino – Built to run forever
HCL Connections Roadmap… to Connections 8 and beyond!
Sametime -Betrieb: Best Practices
BigFix in a Nutshell
How to Install HCL SafeLinx for HCL Nomad Web
Volt MX: the "Swiss army knife" of application development. What is possible today and what is coming soon?
At every point in the programme it was extremely clear how great the joy was among all participants to finally be able to exchange ideas live again. The focus was often on interactivity, so that the sessions were also characterised by questions and spontaneous interactions.
Announcements around HCL Domino and Sametime
The topic Domino brought some new announcements, such as that there will be an add-on to the Domino licence with HCL Volt MX Go. This means that existing Domino applications can be made available with an app on iOS/Android without having to change anything in the business logic. Particularly noteworthy here is that one can still access the application via Notes client.
In addition, attention was drawn to Project Domino ReStyle. This is also about giving Domino applications a more modern look on the web. So it will be easier to turn Domino applications into modern looking applications for mobile devices and Notes.
Another important topic regarding Domino was of course the announcement that marketing and support for Notes Domino 9 and 10 will be discontinued. Here everyone should think about a change/upgrade to the latest version HCL Notes/Domino 12.
Besides topics around Domino, the new version of HCL Sametime 12 was presented. Here, the focus is on functions that optimise collaboration in companies and that offer versatile control and access control. It must be emphasised: "Sametime is still one of the few non-open source solutions that enables secure and data protection-compliant operation even in the public sector or in companies". (Tom Zeizel: Associate Vice President & Head of HCL Software in D-A-CH)
Traditionally, dachnug also offered many workshops again this year, such as:
100 new things in Notes
Nomad Web & MarvelClient – Panagenda Workshops
HCL Volt MX Development Jumpstart – Domino Developers Edition
Running your HCL Domino infrastructure on Kubernetes
Community Management Workshop mit HCL Connections
Source:
Here you can find the video of the dachnug48 (in german) https://www.facebook.com/dnug.de/videos/554888076028060
Other important event tips in this context: