Automated PDF generation that supports system processes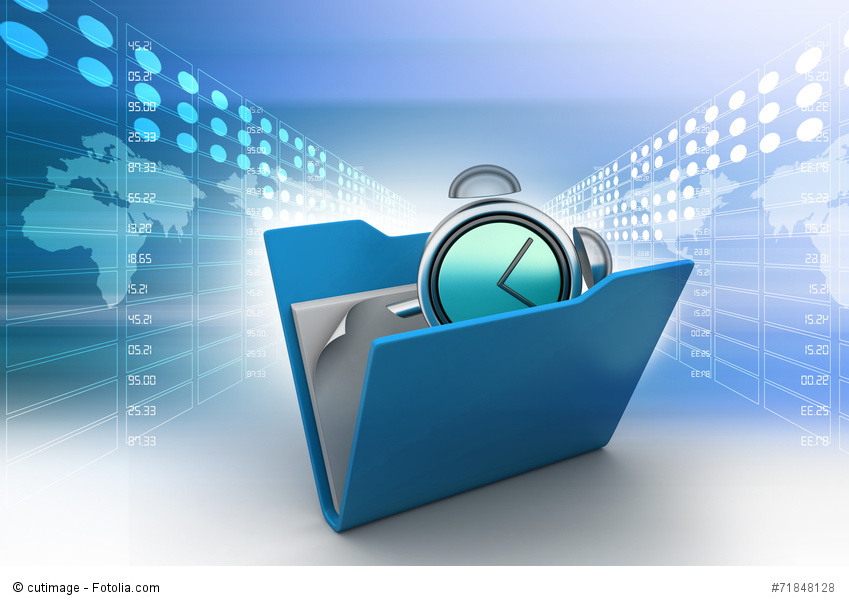 An invaluable assistant behind the scenes
Whether e-mail customer correspondence, business documents or data generated using online input masks – vast amounts of information accumulate in today's digital world of business that need to be managed as systematically as possible. Here those classic enterprise content management (ECM) tasks of capturing, managing, storing, preserving and delivering content and documents are made all the more difficult by the large numbers of database systems, applications and file formats being used. Organizing a system of sharing files across platforms and long-term digital archiving is a special challenge in this regard.
Managing data and information is becoming a big challenge for IT departments. Not only do analog messages have to be fed into the computer systems, the flood of digital information, such as in the form of e-mails, has to be managed as well. Different file formats make administering and storing information and documents even more complicated. Most businesses use the Portable Document Format as the file format par excellence. On the market since the early 1990s, PDF has long since established itself as the quintessential format for the reliable and secure sharing of electronic documents. Working independently of the original file format, operating system and hardware platform, PDF ensures documents are faithfully reproduced and can be stored exactly the way the authors created them. Clickable tables of contents and page previews facilitate navigation in long PDF documents, as do the cross references within complex structures that form the basis of most Lotus Notes applications. Just like using PDF files, Notes applications are also extremely popular among businesses since they are web-based and can be utilized through web browsers. The big advantages they offer are no need for additional software installations on clients and the fact that changes can be undertaken on the web server as the centralized access point. In order to create PDF files from Lotus Notes, many users rely on external applications that interrupt their normal workflows and can be a source of potential errors both for developers familiar with LotusScript and users trained in Notes applications. Here a rule of thumb about using external software says: the more structures and references from Notes documents that must be retained in the PDFs, the greater the amount of user knowledge that will be needed.
Ease for users, flexibility for administrators
With its n2pdf product, the SoftVision company provides a solution that not only solves the problem of converting to PDF, but also reduces the administrative effort involved. This remarkable tool can generate complex PDF files from within the Notes application without destroying the original structures and cross references. Common Notes navigation elements, such as references to documents, views and databases are adopted and supplemented by new and expedient features, such as a table of contents. As an extension or export filter, the tool also lets you merge and combine documents and select the relevant PDF settings, including those for security and data encryption. The fact that the converter operates in the background and automatically uses a script to perform its functions means no additional work is required on the part of the users, who also need make no changes to their usual course of work. Unless you're an administrator, you'll see nothing but the final result, such as appears within the archive system for example.
n2pdf gives administrators maximum flexibility and lets users create PDF files right from the Notes database without having to interrupt their workflows. The solution package consists of three parts. The first two are the n2pdf Client that is installed on the user's local computer and the n2pdf Server Agent that is installed on the Domino server and allows PDFs to be generated in the background or in web-based applications. Users can utilize the solution on their PCs using the n2pdf Server Agent without having to install it on the Notes client. Both product components are integrated using the LotusScript or Java programming languages. The third part is the n2pdf Server Task, which, unlike the other two components, is a turnkey solution package that requires no programming. Installed on the Domino server or employed as a stand-alone version on the client, the n2pdf Server Task uses two Notes databases to receive, process and send jobs for creating PDFs.
The actual creation of a PDF file involves five steps. First, a Job ID and the required structures are created in the computer's main memory. Second, the PDF file settings are determined, examples of which could include the security settings and the table of contents. The third step is to search for and select the Notes documents and fields that are to be inserted into the PDF file. Content is added to the PDF in a fourth step. In the fifth and final steip, the PDF file is created according to the previously defined criteria.
A wide range of uses
These kinds of solutions can be used as part of a program of long-term archiving of enterprise data, such as e-mails and their attachments, customer information and personnel files, that maintains a recognized level of legal and auditing compliance and fulfills the provisions set forth in Germany's Commercial Code, Tax Code and the generally accepted principles of computerized accounting systems (GoBS). The crucial factor in electronic archiving is that the documents be unalterable and remain readable on any platform until the end of the retention period – normally six to ten years. The ISO 19005-1:2005 standard, which is based on the PDF/A format, forms the foundation for compliant archiving. Features for attaching digital signatures, certificates and time stamps protect PDF files against manipulation – a key requirement for legally compliant electronic invoicing, among other things. What makes all this possible are platform-independent, Java-based PDF servers, such as webPDF from SoftVision. These come with flexible interfaces so that administrators can integrate these PDF services into enterprise workflows as seamlessly as possible.
Long-term archiving is just a small part of the capabilities that such solutions can provide. Messages sent by fax and inquiries submitted using the input masks on corporate websites can be managed, converted and stored via Notes as well. Solutions like these also provide an optimized prepress capability that significantly enhances the workflow of Notes-based enterprise processes.
The bottom line is that businesses and their system-specific processes will benefit immensely from an ability to automatically generate PDFs that supports data preparation and document management from within Lotus Notes. The use of applications that run in the background lets users and administrators concentrate on providing professional service and support to customers and projects, instead of having to waste valuable time with complicated and error-prone external conversion programs. Solutions like n2pdf give administrators the greatest possible flexibility when installing and integrating them in into existing Notes applications.